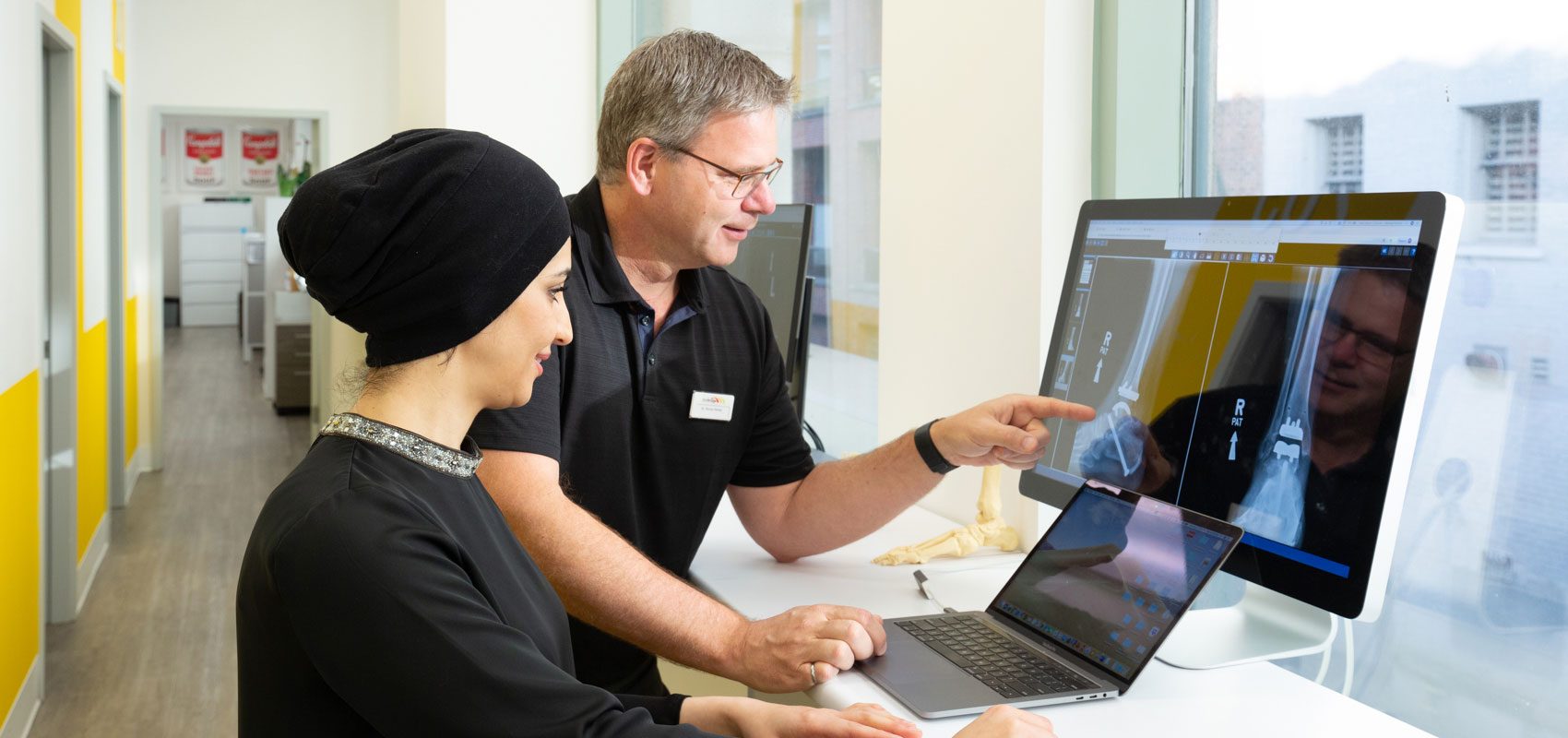 For Doctors
Did you know Footbridge Centre for Integrated Orthopaedic Care doesn't treat just feet? 
Footbridge is a multidisciplinary clinic that is the UBC Integrated Clinic for all Orthopaedic Care. Our team consists of UBC Faculty Sub-Specialty Orthopaedic Surgeons and Sports Medicine Physicians, Physiotherapists, Pedorthists and Brace Fitters. We provide assessment, diagnosis, surgical and non-surgical care for both acute and chronic injuries of the knee, hip, shoulder, elbow, wrist, hand, foot, and ankle. 
Our Orthopaedic Surgeons are sub-specialty fellowship trained in the areas of Arthroscopic Knee, Shoulder, Elbow, Hip and Foot and Ankle Surgery, Hip and Knee Replacement, Foot and Ankle Reconstructive Surgery and Fracture Care, as well as Trauma. Our hospital services extend to UBC, VGH, St. Paul's and Mount St. Josephs.
Footbridge Sport & Exercise Medicine physicians provide diagnosis and treatment for acute sport and chronic musculoskeletal injuries for active individuals of all ages and abilities. Patients can be seen within 24-48 hours of injury by any of our physicians via our Acute Injury Clinic pathway. Our Physicians are affiliated and care for our University and Olympic athletes and several professional teams.
Trust Footbridge to provide the best, most efficient Orthopaedic and Musculoskeletal care for your patient.
Refer to a Footbridge Physician
All requests for a physician consultation require a referral.* Please complete the Footbridge referral form (include all relevant imaging and reports), and fax to our office: 778-945-6775. If the referral is URGENT, or you prefer that your patient see a specific physician, please indicate clearly on the referral form. As soon as we have received your referral, and processed it for triaging, your office will receive a fax indicating so.
All referrals are actively managed by our innovative Centralized Intake System, and then triaged by physicians into one of three streams to ensure your patients obtain an appointment with the first-available and most-appropriate physician, allowing them to get back on a path to health in the quickest manner possible. Once one of our physicians has reviewed your referral, and deemed it appropriate for Footbridge, your office will receive a fax indicating that the referral has been added to our wait list. All of our physicians are experts in orthopaedic and musculoskeletal care, and the choice of stream will be influenced by the information provided in your referral, so please provide as much information as possible including a thorough history and physical exam, plus all relevant imaging and reports. Footbridge Physician Referral Form
*A new referral is required if the patient has not had an appointment with a Footbridge physician in the last six months.
Refer to Footbridge Physiotherapy
Physician referrals are not required for patients to see a Footbridge physiotherapist. Your patients can simply call our office, or book an appointment online at their earliest convenience. If you wish to communicate relevant patient information, it can be faxed to our office: 778-945-6775, or your patient can simply bring it in for the first visit.
At Footbridge Physiotherapy, your patients will undergo a thorough musculoskeletal assessment to determine the best combination of hands on treatment and active rehabilitation to help them achieve their goals. We believe that communication is key: our physiotherapists will provide you with a detailed treatment plan, so you are always informed with regards to the care of your patient.
If you would prefer to use a Footbridge Physiotherapy referral pad, please contact us.
FAQs for Doctors
Is Footbridge a private facility?
Footbridge is NOT a private facility.  Footbridge combines clinical expertise with all the resources needed to deliver comprehensive musculoskeletal care – all in a warm MSP-funded clinic setting.
Can a nurse practitioner refer a patient to Footbridge?
Yes.  Nurse Practitioners can refer patients to Footbridge through the same process as physicians.  Please complete our referral form and FAX to:  778-945-6775.
Can I refer to a specific physician?
YES.  All referring doctors have the ability to request a consultation with a specific physician, however, please note that not referring to "next available" physician will likely increase your patient's wait time.
How long is the wait time to see an Orthopaedic Surgeon?
Footbridge manages all incoming referrals through our innovative Centralized Intake System which ensures that patients will obtain an appointment with the first-available and most-appropriate physician.
Wait-times vary throughout the year, but the approximate wait-times are as follows:
Next Available Orthopaedic Consultation: 12-16 weeks.
Dr. Murray Penner: 10 months.
Dr. Kevin Wing: 24 weeks.
Dr. Andrea Velkjovic: 26 weeks.
Dr. Alastair Younger: 12 months.
Dr. Keith Stothers: 20 weeks.
Dr. Jordan Leith: 16 weeks.
NOTE: the above wait-times apply only to a consultation, the wait time for surgery is not included and may be longer.  
Can I refer paediatric patients to Footbridge for a medical consultation?
In general, Footbridge physicians accept referrals for patients who are 15 and older.  Individuals who are younger than 15 years should be referred for an Orthopaedic assessment by the physicians at BC Children's and Women's Hospital.
How long is the wait time to see a Sport Medicine Physician?
The wait time to obtain a consultation with a Sport & Exercise Medicine doctor is approximately 12 weeks.