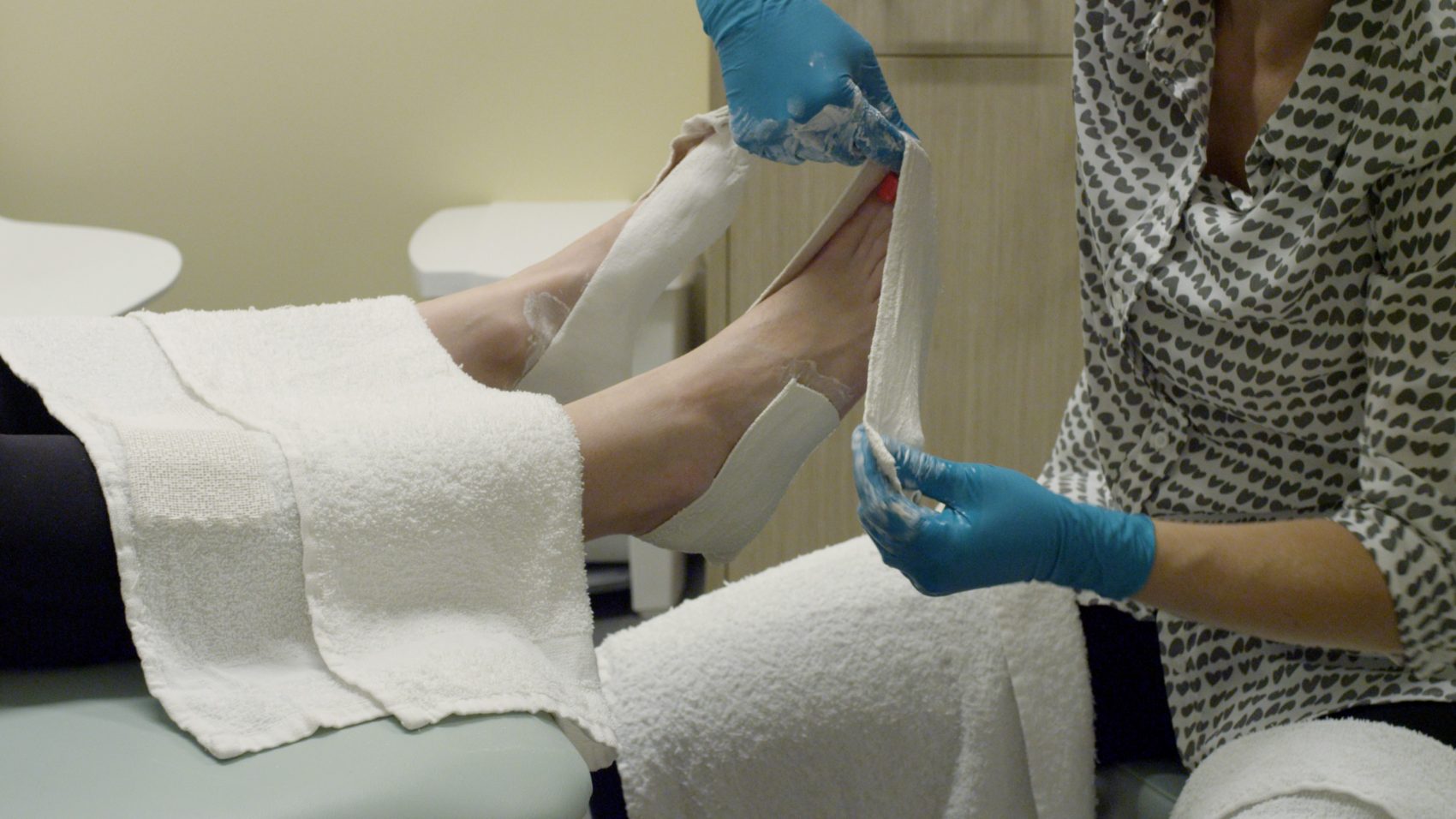 Pedorthics & Custom Orthoses
Our pedorthists are Canadian Certified foot care professionals trained in the making, fitting, and modifying of orthotics and footwear to alleviate pain of the lower extremities.
Pedorthics & Custom Orthoses
Paris EveryBODY pedorthists are Canadian Certified foot care professionals trained in the making, fitting, and modifying of orthotics and footwear to alleviate pain of the lower extremities.
Custom foot orthotics are often prescribed for: foot and ankle osteoarthritis, plantar fasciitis, heel pain, Achilles tendonopathy, hallux valgus/bunion, metatarsalgia, patellofemoral pain syndrome, shin splints, back pain, and as diabetic wound treatment.
To design a truly custom foot orthotic, a thorough assessment is conducted by a pedorthist, followed by either a casting or 3D scanning of your feet. Since they are made just for you, they are supportive and corrective specifically to address the reason causing you pain. Your custom foot orthotics are hand-crafted at Paris Orthotics, our orthotic manufacturing lab in East Vancouver.
We make orthotics based on activity level, activity type, footwear, comfort, protection and correction levels needed. We enjoy being part of an interdisciplinary team, and enjoy working with orthopaedic surgeons, sport medicine physicians, and physiotherapists to find you the best injury solution possible.
About our service: No two feet are the same, not even your own. So, to make a custom foot orthotic just for you, we need to get to know you:
​Your injury history
Your lifestyle
Your biomechanics
Your motion
​​Armed with all this information our Paris Pedorthists can determine which combination of device components will address your needs the best so you can get back to doing what you love.
Services Offered
Ankle Foot Orthoses (AFOs)
A custom ankle brace (nkle foot orthotic) is designed to treat chronic conditions of the foot and ankle including drop foot, PTTD, ankle sprains and other causes of foot and ankle pain. Introduced to the medical community in 1996, the Richie Brace has revolutionized the non-operative approach to the most challenging pathologies treated by the foot and ankle specialist.
Shoe Modifications and Recommendations
Changes or modifications made to off-the-shelf footwear. Modifications can be done to mostly any part of the shoe, the upper, the midsole or the outsole. Please reach out to one of our Canadian Certified Pedorthists to see what modifications can be done, and how a modification might assist with your condition.
Orthotic Repairs
Hard components of an orthotic should last for the functional life of the device (3-5 years). Soft components will wear at varying rates. We can repair soft components, while you wait, or in a few business days for a nominal fee.
Diabetic Care
It is our goal to help offload diabetic foot ulcers to promote healing. We work with you by providing a wound care system and a custom foot orthotic. Once healing has occurred, the orthotic can be transitioned into regular shoes to help prevent the recurrence of an ulcer.
Custom Footwear
Specialized footwear made for unique feet. Foot and ankle impressions taken and then footwear design for fit and function. All footwear made from raw flat materials and custom made to each foot. A custom foot orthotic or insert is then incorporated into the shoe.
Spring Plates
A simple and effective solution for limiting motion across the forefoot and aiding in propulsion.
Extremely thin, light and durable – made from premium quality pre-preg carbon,
Contoured design to provide ideal toe spring and heel elevation for most athletic, walking and orthopaedic footwear designs.
To book an appointment, call: 778-945-6756 xt 5 or visit our website.